Reclaim the Night
Friday March 8 2013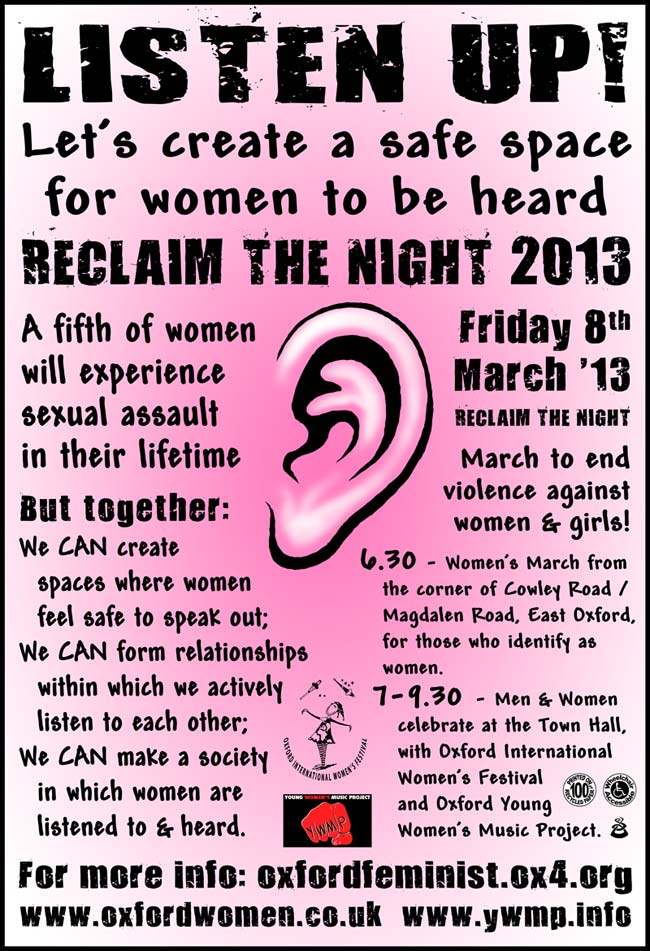 Listen Up! Let's create a safe space for women to be heard
Last year 111 rapes were reported in Oxfordshire - and only around 10% of rapes are reported to the police.
Oxford is home to a lapdancing club which normalises sexual exploitation of women by men for profit, and brings increased harassment for women in the local area.
Meanwhile in the UK:
I in 5 women experience a sexual offence in her lifetime

400,000 women are victim of a sexual offence every year

69,000 women are raped every year

90% of victims know their perpetrator

15% report to the police
We all have a responsibility to create safe spaces for women who have experienced any form of sexual violence to be heard, listened to and believed.
All too often myths around sexual violence and women's untrustworthiness prevent survivors from accessing the support they need and enable perpetrators to continue to act with impunity.
We want to create spaces that enable myths to be challenged, support survivors and end a culture that tolerates violence against women and girls.
Oxford Reclaim the Night believes that:
All women at all times have the right to be safe from all forms of violence
It is always the perpetrator who is to blame, never the victim
It is a community-wide responsibility to make Oxford a safe place, where women and girls:
can walk the streets at any time in any situation and not be at risk of rape;

can feel supported to speak about violence and rape, and expect to be believed;

know they have the right to be themselves, to make choices about their own lives, and need not fear pressure to be or do or say anything that they do not want to.
This year Reclaim the Night will be marching to reclaim our right to be safe, and holding events and distributing information cards about safer spaces and active listening, getting the message out that it is up to all in the community to help create safe spaces.
March 8 Reclaim the Night march & Rally 2013
6.30pm - Women's march from Cowley Rd (corner of Magdalen Rd), East Oxford, for all self-identifying women.

7-9.30pm - Women & Men celebrate at the Town Hall with Oxford International Women's Festival and Oxford Young Women's Music Project.